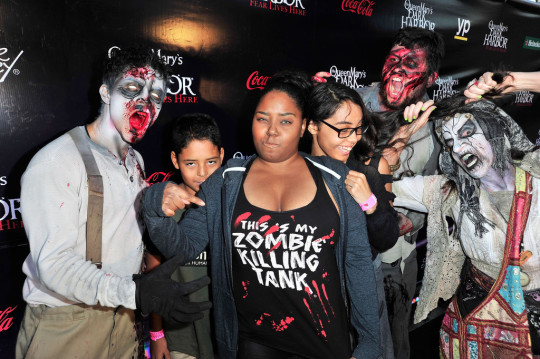 Shar Jackson, daughter Kori, and son Kaleb attended  Queen Mary's Dark Harbor Scares the Ship Out of Celebrities at The Queen Mary on October 1, 2015 in Long Beach, California. The actress and her kids did not even flinch as they posed with crew members at the Halloween event.
Since 2011, Queen Mary's Dark Harbor has been scaring the SHIP out of  all its guests. Led by production designer and art director J.J. Wickham, Dark Harbor is a haunted experience in Southern California that takes place from Oct 1-November 1. Attendees can purchase tickets starting at just $20 online. Fast Fright, VIP Passes, and Overnight Packages are also available.
Jackson, 37, is also mom to son Donnie, 20, and daughter Cassie, 18, with her high school boyfriend. Kori and Kaleb's dad is former backup dancer Kevin Federline.
Photos: Getty Images