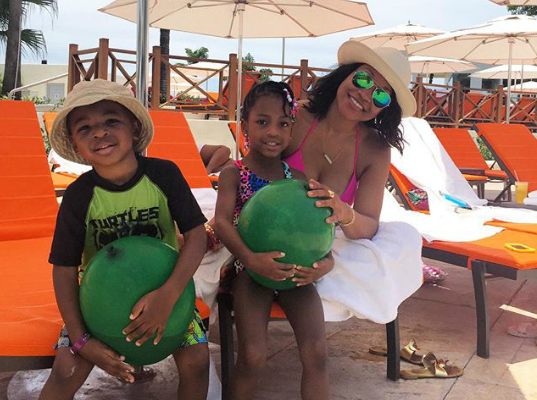 Everything is a song for Mason, Madilyn and Monyetta who have been enjoying a beautiful vacation in Jamaica. The celebrity family recently shared pictures from their getaway.
"Vacay fun w/ my loves," shared Monyetta along with a picture of her and the kids kayaking. Madilyn and Mason were relaxing on the small vessel while Monyetta was ready to work. The family also spent quality time on the shore. "Beach time w/ #myminime #MadilynGrace," shared Shaw along with a picture of her daughter.
Monyetta and the children's father, Ne-Yo, are doing well in the field of co-parenting as the rapper recently put his kids' mother on the deed of his $1 million condo. TMZ reports,
"The R&B singer just put Monyetta Shaw — with whom he shares 2 kids, Madilyn and Mason — on the deed of his Atlanta high-rise condo.

We're told Ne-Yo made the very expensive gesture to make sure his kids would live in comfort."
The star's kids will certainly be living in luxury as the home has three bedrooms and 3.5 baths. There is also a 24 hour concierge along with a full gym, swimming pool and tennis court included.
Monyetta Shaw has two kids with Ne-Yo. See more video footage and pictures of the celebrity mom vacationing with her kids below!
Monyetta and the kids take a swim
https://instagram.com/p/6aMaxYxJxR/
Madilyn leaves a message for her fans
https://instagram.com/p/6bIQg3RJyg/