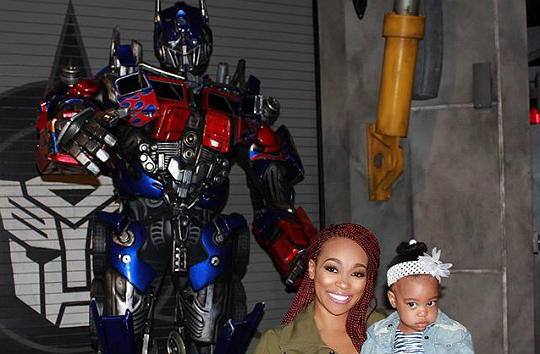 The Browns had a blast in Orlando this past weekend. Monica and the kids took a trip to Universal Studios, and had loads of fun despite the rain.
"Rain Rain Go Away Come again Another Day," captioned the singer underneath video footage of her and the kids exploring the theme park while wearing winter gear. Although it was pouring down raining, Monica and her little ones were determined to enjoy every bit of their vacation at Universal. "Nothing will stop us baby," shared the star. The singer told Instagram fans that she takes pleasure in seeing her kids so happy. "As we head home I'm already reflecting on the countless memories made," said the star.
The Brown certainly had memorable moments while on their trip. Not only did they get to take pictures with the Minions, but they also had the opportunity to view one of the Transformers up-close. Laiyah, the youngest member of the family, didn't appear to be all that thrilled about the Transformers but did warm up to the Minions. "It took Laiyah a second but by the time we left she was saying love u minions," shared Monica.
Laiyah is the singer's only child with her husband, Shannon Brown. Monica also has two sons, Romelo and Rodney Jr., from a previous relationship.
https://instagram.com/p/6VlkXuTaYR/