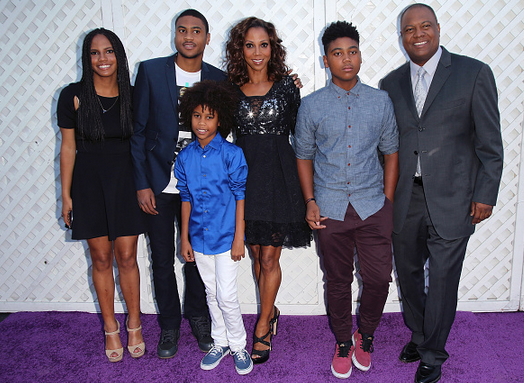 Just call them the charitable bunch! Holly Robinson Peete and her husband hosted the 17th Annual DesignCare Gala at the Lot Studios in Los Angeles on Saturday. The celebrity couple had their children with them while entertaining guests.
Several celebrities came out to support the Peetes' efforts. Yara Shahidi and Mo'ne Davis were two of several young stars to stop by the event, and Star Jones along with former boxer Laila Ali were also in attendance.
The HolyRod Foundation was established several years ago as a way of providing support to families with loved ones battling illnesses and disorders. Holly and Rod know full well about the challenges that individuals with disabilities face since their oldest son, Rodney Jr., has lived with autism for the majority of his life. Although young Rodney has faced many obstacles as a result of his disability, he does not let autism be the deciding factor of life's choices. As a result, the teen has worked a job and inspired others with his story since being diagnosed more than a decade ago.
Jussie Smollett of the hit FOX show Empire performed at this year's gala, and designer Adolfo Sanchez delivered a spectacular fashion show. Holly and Rodney Peete have four kids together.