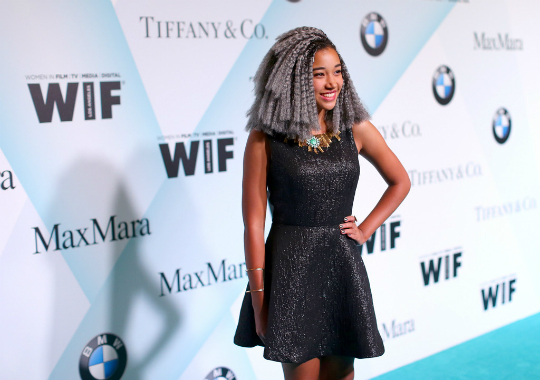 Amandla Stenberg was the center of attraction at the Women in Film 2015 Crystal + Lucy Awards on Tuesday. The ceremony was held at the Hyatt Regency Century Plaza in Century City, California, and featured Amandla in all of her gray glory.
The Hunger Games star wore a black dress to the event and rocked gray hair. Many guests took note of Amandla's appearance, and several media sources praised the star for being bold yet classy.
"Amandla Stenberg is only 16 but competently outshone a host of famous faces in the fashion stakes at the Women in Film 2015 Crystal + Lucy Awards in Los Angeles," reported Yahoo! Celebrity. "The 'Hunger Games' star's beautiful black mini-dress was paired with a smart statement necklace, while she confidently rocked the grey hair craze," the media source added.
Stenberg's boldness goes beyond her fashion sense. It was just a few months ago that Amandla took to social media to address the subject of institutionalized racism. "What if America loved black people as much as black culture," asked the star after discussing police brutality in relation to Hip Hop culture and its worldwide acceptance.
This year's Women in Film awards was presented by Max Mara, BMW of North America, and Tiffany & Co. See more pictures of Amandla Stenberg below!
Photo: Getty Images