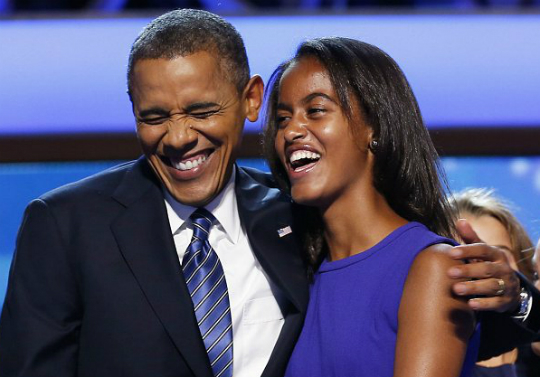 Who says you can't put a price on love? Felix Kiprono, a lawyer in Nairobi, Kenya, is offering a dowry of 50 cows, 30 goats,  and 70 sheep for Malia Obama's hand in marriage. Kiprono, it appears, has been smitten with President Obama's daughter for over seven years now.
"I got interested in her in 2008," Kiprono explains to a Nairobian newspaper. "As a matter of fact, I haven't dated anyone since and promise to be faithful to her. I have shared this with my family and they are willing to help me raise the bride price."
The brazen lawyer hopes to discuss his intentions with Obama when he visits Kenya in July.
"People might say I am after the family's money, which is not the case. My love is real," he says, adding that, "I am currently drafting a letter to Obama asking him to please have Malia accompany him for this trip. I hope the embassy will pass the letter to him. I will hand it over to the U.S. ambassador with whom we have interacted several times."
If his wishes are granted and his proposal is accepted, Felix plans to live an ordinary life with his bride.
"Ours will be a simple life. I will teach Malia how to milk a cow, cook ugali (a porridge) and prepare mursik (a sour milk) like any other Kalenjin woman," he said.
BCK Says: We, along with Malia, are laughing our heads off!