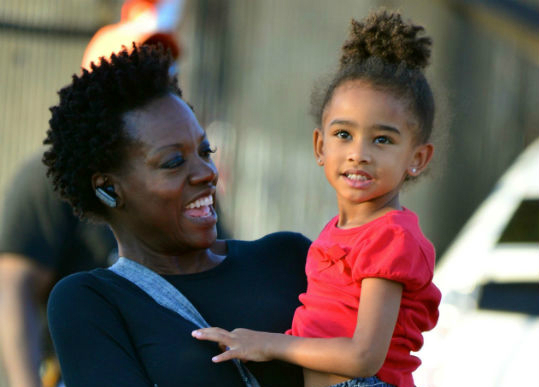 Married for almost 12 years to actor Julius Tennon, Viola Davis tells Glamour that she is instilling values in her daughter Genesis, 4, whom she and Tennon adopted in 2011.
"I tell my daughter every morning, 'Now, what are the two most important parts of you?' And she says, 'My head and my heart.' Because that's what I've learned in the foxhole: What gets you through life is strength of character and strength of spirit and love."
Viola has certainly had her share of challenges in the "foxhole" of life. The actress recalls living in poverty as a child, and being hungry to the point of searching through trash dumpsters for food. "I was always so hungry and ashamed, I couldn't tap into my potential. I couldn't get at the business of being me."
Davis eventually did tap into her potential in high school, and her passion for acting flourished. She was one of few students at her school to be offered a scholarship to Julliard School in New York City upon completion of her senior year.
Now, Viola uses her prestige as an actress to battle hunger in America. She seeks to bring an end to more that 15 million kids going to bed without dinner in one of the wealthiest nations in the world by spreading awareness about the issue and contributing to programs that reach out to the underprivileged.
Genesis will celebrate her fourth birthday this year.