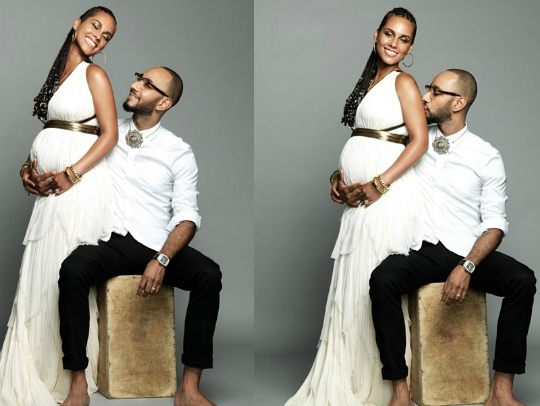 They took us by surprise! These celebrities revealed that they were expecting and we couldn't help but let our mouths hang in utter shock. Here are a few of the surprise pregnancies of 2014.
Alicia Keys and Swizz Beatz
The couple revealed their expectancy by sharing a picture of pregnant Alicia Keys on Instagram. Swizz and Alicia welcomed their second child, named Genesis by big brother Egypt, on December 27, 2014.
Kelly Rowland and Tim Witherspoon
The R&B sensation told fans that she and husband Tim Witherspoon were expecting their first child in June. Kelly shared a picture of a pair of baby Air Jordan's with Instagram fans, and told them that her little one would be "stuntin" like his daddy. Baby Titan was born in November.
Emily B and Fabolous
We thought that Emily and Fabolous were through with pregnancy; we thought wrong. Bossip revealed that Emily was in her second trimester of pregnancy with her and Fabolous' second child  a few weeks ago. Emily also has a daughter named Taina from a previous relationship.
Tyler Perry and Gelila Bekele
We wouldn't have known of Tyler's expectancy had a good friend of Gelila not shared the good news on Instagram. The entertainment mogul and his girlfriend welcomed their first son in November.
Zoe Saldana and Marco Perego
The speculation ran wild, but it wasn't until Zoe and husband Marco Perego participated in the ice bucket challenge that we truly learned of her expectancy. The Guardians of the Galaxy star expressed her support for raising awareness about ALS during the video, but told fans that she could not participate due to her expectancy. Zoe and Marco reportedly welcomed twins earlier this month.
Natalie Nunn and Jacob Payne
The reality star and her husband shared the joy of their expectancy during an interview with Life & Style. "Jacob and I couldn't be happier," said Natalie. "I found the most perfect, supportive, handsome husband, and now a soon-to-be mini-me or mini-Jacob!"
Zena Foster and Tank
Zena shared a picture of herself while wearing a bikini that showed off her bump earlier this year. "My baby @zenafoster and our baby boy due…God is good," tweeted Tank.