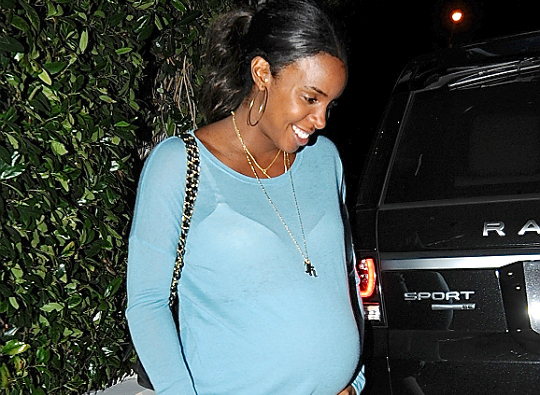 Kelly Rowland is all smiles as she approaches her due date. The heavily pregnant singer was recently spotted while out and about with good friend Ciara. The artists dined at Cecconi's in Los Angeles on Wednesday, and Kelly couldn't help but smile as she placed a protective hand on her bump. The singer wore a beautiful top that only enhanced her glow that has been showing for several months.
Rowland has been on cloud nine since learning of her expectancy. "I can't wait until he gets here," said the star during a recent interview with Elle. "I believe I spoke it into existence during a conversation with my friend, and I feel like I became pregnant overnight!"
The singer further explained that her expectancy period has been more than amazing. "I took a birthing class and I was amazed by all the things this woman was saying to me about birthing and what the body does naturally. Why wouldn't you want to celebrate that? The body should be celebrated."
Kelly and husband Tim Witherspoon are expecting their little one to arrive in coming weeks. The couple is preparing for a boy.
Photos: Splashnews