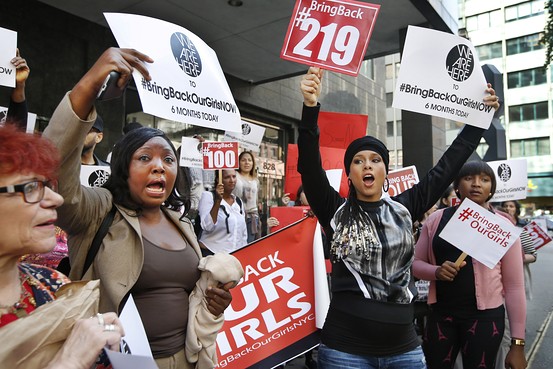 Alicia Keys draws near to her due date but she isn't letting that get in the way of her quest to bring about change in the world. The pregnant R&B singer recently orchestrated a protest in front of the Nigerian consulate in New York that called for Boko Haram militants to bring back the 219 school-aged girls that they kidnapped in April.
October 14, 2014, marked the six month anniversary of the girls' disappearance. The militants abducted the little ones from school in Nigeria, and have since refused to return them to their parents. "Today is my son's birthday, and it is also making me stand in solidarity with all the mothers of the Chibok girls who have been abducted," said Keys at the rally. "Six months, and [they] are still missing. And it is just outrageous that that's going on."
Motherhood has inspired Alicia to do a lot these days. The singer released a smash hit single called 'We Are Here' that addresses social issues, in honor of the impending birth of her second child. She later initiated a movement with the same title that is encouraging millions to look beyond the surface and discover their purpose in life.
Although pregnancy has been something that Keys experienced before, the singer tells media that the second time around is different. "This one was definitely different from Egypt," explains the star. "I felt more tired, more kind of sick than I was the first time, but overall I feel more confident and comfortable. The first time I'd be freaking out like, The music's too loud, it's going to hurt the baby, stuff like that. You're like extra over-thinking everything. This time it's much more calm."
Alicia and husband Swizz Beatz are expecting their second child to arrive in December. Their son, Egypt Dean, turned 4-years-old on Tuesday.