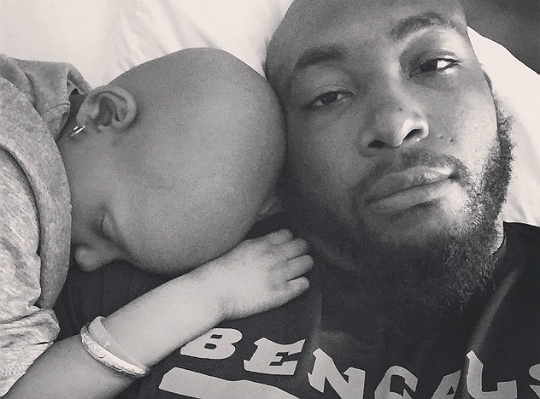 Devon Still is is enjoying the simple things in life. The NFL star recently sat down with the 'TODAY' show to talk about his daughter's battle with cancer that began at a dance recital several months back.
"She only would complain about leg pain when we would say, 'Go clean your room,' or something," said Devon of his daughter's behavior backstage just before performing. "We didn't think nothing of it," explained the star. "But when we told the doctor, they touched her leg and she jumped in pain. They had a list of things of what it could be, and it was about ten different things that they thought. The last thing they said was cancer."
Unfortunately, Leah was diagnosed with stage four cancer after doctors found a tumor in her stomach that was the size of a softball. The illness had spread to various parts of the little one's body and she was only given a fifty percent chance of surviving. "It was hard to focus on football with my daughter ten hours away.," shared Devon. "I struggled with that a lot. I couldn't give football one hundred percent."
The NFL star was grateful to the Cincinnati 'Bengals' for allowing him to take a back seat on the practice team during his daughter's battle with the illness, and told 'TODAY' that all of the love from the general public made Leah feel special. "The love is definitely there, more love than I knew existed," said the star. "It's done wonders for me, it's done wonders for my daughter. Every time she's on the TV she calls me and tells me how she's a movie star how everyone wants to know about her."
Leah is Devon's only child. She is 4-years-old.