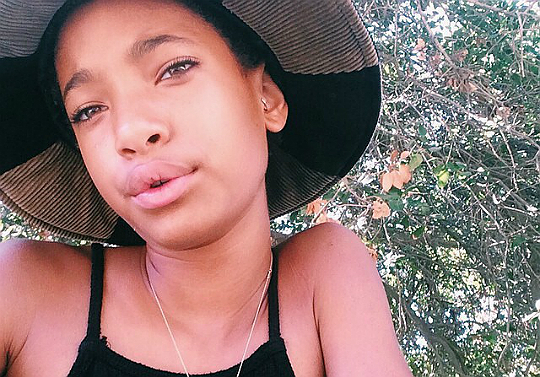 As promised, Willow's music career is back in full blossom. After recently releasing "Blue Ocean" with big brother Jaden and the King Krule cover "Easy Easy", the youngest Smith proves she has no intention of slowing down. She has just debuted "Your Love" via her SoundCloud page. The song is full of passion and angst, and samples XX's "Basic Space."
Not unlike her other music, the funky yet simple tone of "Your Love" compliments her soothing (if not haunting) vocals.
Although the lyrics might reach above her 13-year-old grasp, the melody and style are nothing short of what we expect from this quickly maturing young star. On the track she sings, "But how did you know/ You swept my heart/ Said those words/ You cradled me exactly the way I needed".
Since turning down the role of Annie in the upcoming broadway adaptation, Willow has seemed to turn her back on acting. Instead, she has been completely focused on modelling and creating music. Collaborating with many other young indie artists and sampling tracks, Willow has certainly been showing off her passion and respect for the art-form. It's always exciting to see what she'll come up with next.