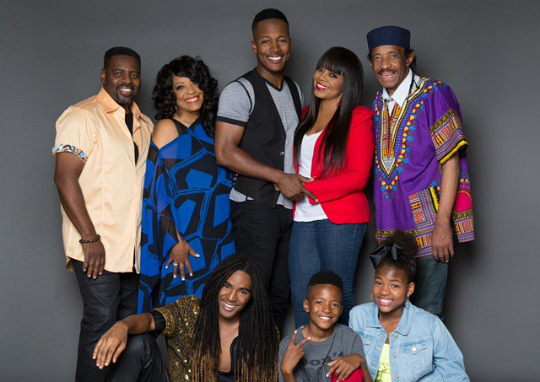 Actor Flex Alexander (One on One) and '90s pop star Shanice appear to have it all. Once big stars, the couple married back in 2000 and share two children, a daughter Imani (13), and a son Elijah (10). Their family home in the suburbs seems to have all the pieces, but with financial burdens piling up, they have decided to move in the extended family for help.
No longer hiding their money problems from the world, their new reality TV show Flex & Shanice will follow the couple as they try to get back on track. Flex will be attempting to rebuild his stand-up career after 18 years, and Shanice will be back in the studio. It will be airing on the Oprah Winfrey Network, premiering Saturday, November 1 at 10 pm.
Last spring the network ran a sneak preview of the series and it was a huge success, especially among the key demographic of women aged 25-54. It was also the nights #1 non-sports telecast among black women. It will air alongside Deion's Family Playbook, a docu-series that follows sports legend Deion Sanders as he raises 10 kids with the help of his mother and long-time girlfriend, Tracy Edmonds.
Since his sitcom One on One ended in 2006, Flex has nabbed a variety of small roles, including Snakes on a Plane and Blue Bloods. Set for release in 2016, the born again Christian has recently wrapped production on the film Soul Ties, a drama about faith and heartache.
After being a part of the Divas Simply Singing benefit concert for HIV/AIDS in 2011, Shanice has found herself recording music for a couple of games. She offered her vocals up for Kinect's Rythm Party in 2012 and the English theme song for The Bouncer called "Love is a Gift".
For all their financial troubles, they are one happy couple with nearly 15 years under their belts. With their wedding anniversary falling on Valentine's Day, it's safe to assume there will be a joyous celebration special at some point in the series.
Photo: OWN Network