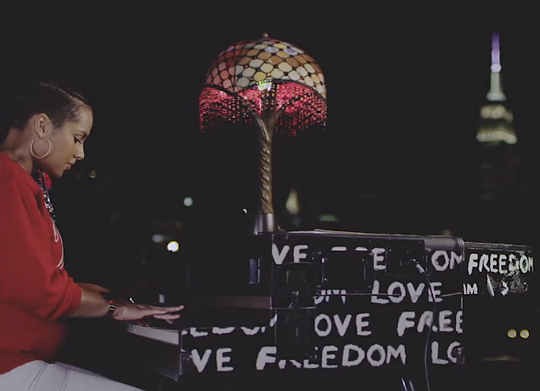 Alicia Keys is writing with more passion than ever. The recording artist recently shared her new song 'We Are Here' with Facebook fans, and left a message that explained how the song came about.
"The day I wrote this song, I was sitting in a circle of people of all ages and we were asked, 'Why are you here,'" wrote the star. "This really hit me on a deep level. I realized no one had ever asked me that question before. As I prepare to give birth to a new child, I can't help and think about the world I'm bringing my baby into. No matter where we come from, when we see the state of the world today, we can all feel the growing frustration and desire to make a difference. And we all have a voice – we just need to know how to make it heard."
Alicia is certainly making her voice heard in her new song. The singer talks about various social problems, including guns and violence in America, and then tells listeners that "we are here for all of us." Through her lyrics, Keys makes it clear that she wants her kids to grow up in a world where love, not hate, comes in abundance. The R&B singer is expecting her second child with husband Swizz Beatz to arrive in December.
Watch the video HERE.