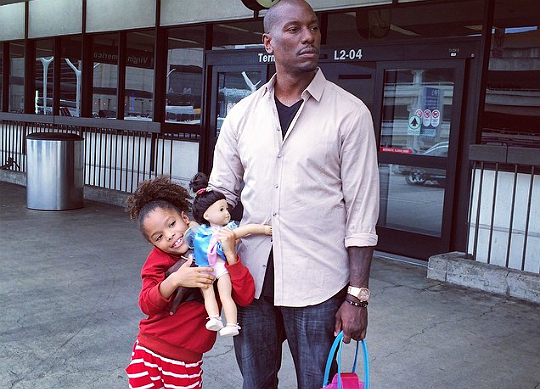 Shayla is her father's world. The little one was recently photographed with dad, Tyrese Gibson, while en route at the airport. "God is good all the time," tweeted Tyrese along with a picture of himself with his sweet. Gibson appeared to be very protective of Shay in the photo as he made sure to place a guarding hand in front of her as she posed for the camera.
Little Shayla was the center of attraction a few days back when Tyrese met up with a few of his friends in the industry who are also dads. Jamie Foxx as well as Ludacris and Larenz Tate joined the all-around entertainer in celebrating his daughter's seventh birthday. Of course, Shayla brought life to the celebration with her cute personality.
You only need to see Jamie, Larenz, Luda, and Tyrese interact with their kids one time to know that they are Hollywood's doting fathers. All of the men travel with their kids as often as possible and do not hesitate to engage with their little ones while in public. Jamie Foxx has shared kisses with little Annalise on countless occasions in addition to informing social media fans of the accomplishments of his oldest daughter Corinne. Ludacris and Larenz also enjoy precious moments with their kids.
Shayla is Tyrese and ex-wife Norma Mitchell's only child together. She was born on July 11, 2007.
Photo: Instagram