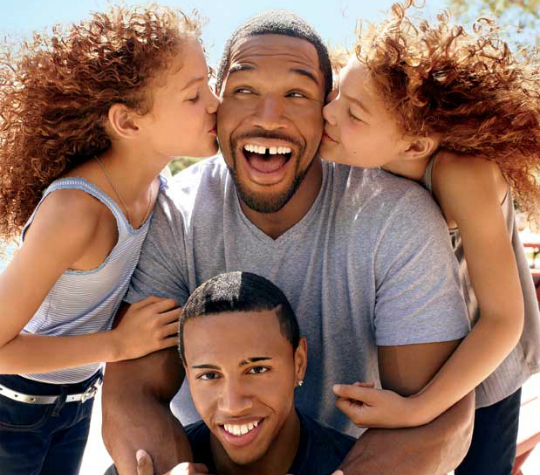 One might think Michael Strahan's blended family life, which consists of a total of 9 children, seems chaotic, but the TV host says life with fiancee Nicole Murphy is perfect.
"As a divorced man, you just want somebody around your kids who's respectful and will treat them like her own. When you understand that, there's never any issue," he tells Ebony magazine.
"I love the kids and the family," Michael adds. "For us, it's key that we maintain normalcy. We have a great life."
Nicole has five children with former husband, comedian Eddie Murphy, Bria (29), Myles (21), Shayne (19), Zola (14), and Bella (12). She and Eddie finalized their divorce in 2006.
"If I see Eddie", Michael said, " it's, 'What's up?' There is no animosity or jealousy." Michael has two children with his first wife, Tanita (22), and Michael Jr. (19). He also has a set of 10-year-old twin girls, Sophia and Isabella, with a second wife.
Co-hosting Live with Kelly and Michael is not this former NFL star's only gig though. Business Wire reports that he is slotted as the host of Nickelodeon's new awards show, Kid's Choice Sports which is set to air in July. He will also be acting as Executive Producer. "Sports are a huge part of kids' lives," explained Nickelodeon President, Cyma Zarghami. He went on, "in the spirit of Kids' Choice, we are going to celebrate it in the biggest, loudest, slimiest way possible this summer!"
Michael seems genuinely excited to be a part of the project. The family man stated: "It is a real honor to be the inaugural host of the Kids' Choice Sports awards. As an athlete and as a father to four kids who grew up with Nickelodeon, I know firsthand what an important role sports play in kids' lives. This is going to be a kids' Super Bowl-sized event that will have the best athletes, the best entertainment, the most fun, and of course the best slimings the world of sports has ever seen for the whole family to watch together."
Photo: Parade Magazine