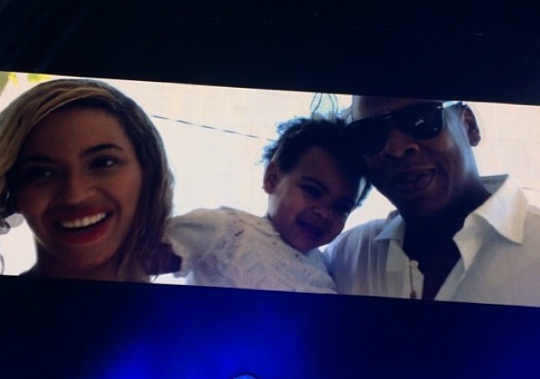 Beyonce and Jay-Z did not disappoint when it came to the first stop of their highly anticipated On The Run Tour. At the Sun Life Stadium in Miami Gardens, the couple got extremely personal with the crowd. The show featured personal videos of their (until now) private wedding ceremony in 2008, as well as videos from Beyonce's pregnancy with Blue Ivy and other intimate moments of family life.
In today's celebrity culture, the public finds it difficult, if not impossible, to accept persistent privacy in the daily lives of their favorite stars. So, not surprisingly, Beyonce and Jay-Z deciding to keep much of their personal lives secretive has spawned many rumours, especially when it comes to Blue Ivy. Without a public display of her baby bump, the couple came under fire as the public speculated madly about the circumstances of their daughter's birth. From surrogacy to illuminati involvement, the conspiracy theories went on and on. Perhaps this bold and surprising move from the power couple will finally put the rumours to rest.
If nothing else, the crowd appreciated being let in, if only for a night. Fans have taken to social media to express their graciousness writing comments such as, "The video of Beyonce & Jay Z wedding and birth of Blue were beautiful – I was in tears aww" and "That footage of Beyonce in the hospital after giving birth to Blue made me tear". And it doesn't end there. Beyonce's instagram page is now loaded with pics and videos from the show, to which followers are responding with more appreciative love and respect for the family and their willingness to share.