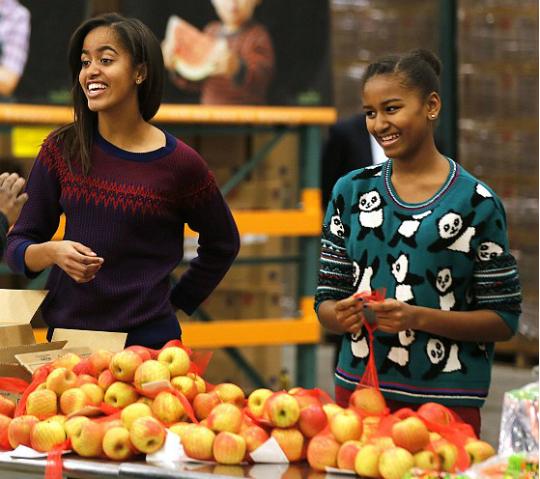 President Barack Obama and First Lady Michelle Obama have between them four Ivy League Degrees. But they worked hard to achieve success and were no strangers to penny pinching and minimum wage jobs. Now, they say they would like their daughters to have those same experiences.
Mrs. Obama told Parade magazine, "I think every kid needs to get a taste of what it's like to do that real hard work".
Money was tight when the power-couple first finished school. Mrs. Obama had worked at a book-binding shop, while the future President worked odd jobs such as painting, Baskin Robbins, and was even employed as an aid at an assisted living home (which he considers to have been a great job aside from the folks who were cranky about their restrictive diets). Reflecting on those times, he recalled that his first four jobs were minimum wage, or near to it.
Newlywed and fresh out of law school, the couple spent their first year living with Michelle's parents. "The car I drove for the first five years of our marriage was used. I bought it for $1,000, paid cash. So, we pinched pennies."
For the First Lady, working for minimum wage as a teenager taught her important life lessons. "Knowing that I, as a 16-year-old, was getting the same income and doing the same work…it gave me respect for those workers. But it also gave me an understanding that more is needed for folks to be able to cobble together a decent life on minimum wage."
The President added: "We are looking for opportunities for [our daughters] to feel as if going to work and getting a paycheck is not always fun, not always stimulating, not always fair… that's what most folks go through every single day."
This admirable desire for their girls to learn empathy for the lower-class is of course related to President Obama's stance on national minimum wage. He explained that while there are things he can do at the level of administration, such as make executive orders on equal pay and minimum wage for federal contracts, in order for national minimum wage to go through Congress needs to act. The same goes for legislation on child care.
"But if Congress doesn't act, then we'll work with various stakeholders, highlighting companies and businesses that are doing the right thing," he noted.
Currently, Malia (16) and Sasha (13) attend the private Sidwell Friends School in Washington. The girls have grown up with many extra-curricular activities including piano and tennis. Malia also played soccer, and studied dance and drama. Meanwhile, Sasha has practiced gymnastics and tap.
On several occasions Mrs. Obama has spoken both respectfully and jokingly of her children's desire to be 'normal', so perhaps a couple of minimum wage jobs is just what they need.