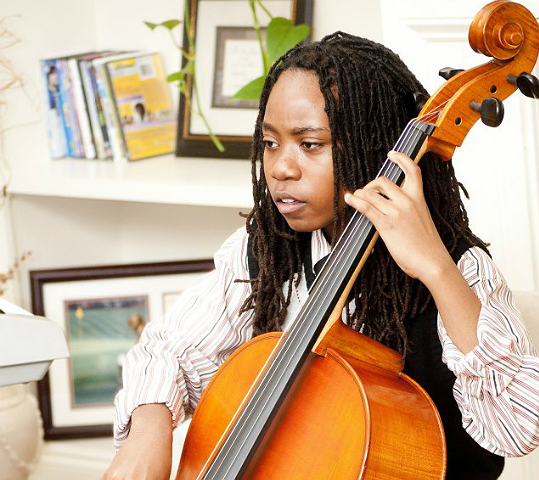 Little Music Manchild: The Malik Kofi Story is a documentary that follows an 11- year-old (now 12) musical prodigy. The boy welcomes viewers to step into his unique life as he deals with the subjects of homeschooling, family sacrifice, and cultural awareness.
The film joins Malik as he continues to develop his remarkable talents of music and scholarship, and as he fearlessly takes on the leadership role of public speaker. It is produced by Malena Cunningham, founder of Strategic Media Relations, Inc., and is set in Malik's hometown of Birmingham, Alabama.
As a truly inspiring work, it encourages other aspiring musicians to fight to reach their potential, as this young cellist has done. Without a doubt, Malik is on his way to accomplishing amazing feats. "He's an extremely talented cellist," says Udi Bar-David who plays for the Philadelphia Orchestra, adding, "very creative, mature, has stage presence, is open to learning and has strong ideas of his own." Along with Bar-David, the biographical picture also includes appearances by Craig Hultgren, cellist with the Alabama Symphony, and Dr. Frank Adams, renowned jazz musician.
Malik's passion for the cello is undeniable. "I have had all positive experiences playing cello and classical music" he stated. "I have been most fortunate to have professionally well known cello instructors. They saw in me that special something, and they took a keen interest in helping me develop it. What has been required of me has been required of others and what has been required of others has been required of me: hard work and daily hours of practice with passion!"