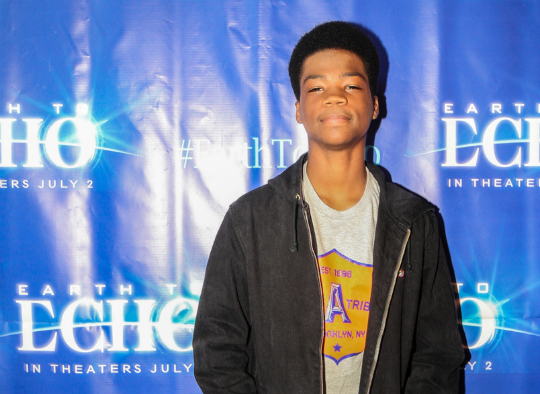 Rapper/actor Astro recently attended the Earth to Echo premiere at Regal Atlantic Station Cinemas in Atlanta, Georgia on June 2nd.
Love and Hip Hop Atlanta cast member and rapper Yung Joc, Headkrack of The Rickey Smiley Show, Taj Rap Princess, and Roberta Shields mother of rapper Ludacris and Executive Director of the Ludacris Foundation were also all in attendance at the premiere.
Radio personality Ramona Debraux from Atlanta FM station V-103 hosted the screening with Earth to Echo producer Andrew Panay. Astro also helped by introducing the film to attendees.
Check out the Earth to Echo synopsis below.
In Relativity's PG summer family adventure movie, Tuck, Munch and Alex are a trio of inseparable friends whose lives are about to change. Their neighborhood is being destroyed by a highway construction project that is forcing their families to move away. But just two days before they must part ways, the boys begin receiving a strange series of signals on their phones. Convinced something bigger is going on, they team up with another school friend, Emma, and set out to look for the source of their phone signals. What they discover is something beyond their wildest imaginations: a small alien who has become stranded on Earth. In need of their help, the four friends come together to protect the alien and help him find his way home. This journey, full of wonder and adventure, is their story, and their secret.
EARTH TO ECHO is a PG action adventure movie opening in theaters nationwide on July 2, 2014
Photos: Thaddaeus McAdams / ExclusiveAccess.Net.
Learn more about EARTH TO ECHO on:
Twitter: https://twitter.com/earthtoecho
Facebook: https://www.facebook.com/EarthToEcho
YouTube: http://www.youtube.com/earthtoecho
Tumblr: http://earthtoecho.tumblr.com
Instagram: http://instagram.com/earthtoecho
Pinterest: http://www.pinterest.com/earthtoecho/
Official site: http://earthtoecho.com
Hashtag: #EarthToEcho