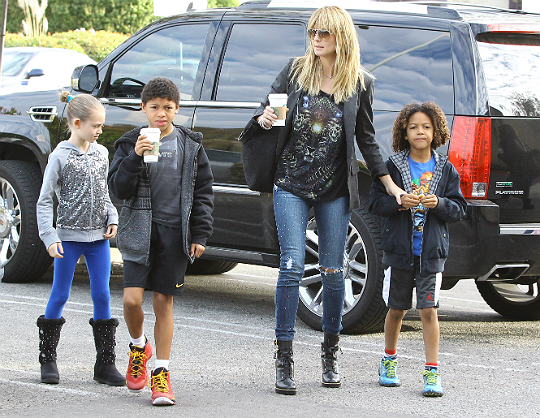 You may know Heidi Klum for her work as a model, T.V. host, or fashion designer, but she is also quite the active philanthropist.
Most recently, she has been working with the Red Cross, UNICEF, God's Love We Deliver, Stand Up to Cancer, and the L.A. Children's Hospital.  Her beauty and charm are not the only traits she intends to pass on to her four lovely children with ex-husband, and four time Grammy winner, Seal. ABC reports that this T.V. personality also makes a point to get her children involved in giving back.
"Whenever I come from a mission –- whether it was Haiti or visiting the children in the hospital -– [my kids and I] sit at the dinner table and we talk about what I just saw. They ask questions and it is a family discussion." And it's working. She went on to explain, "At school, my kids also participate in a sack lunch program where they bring in food and make meals for homeless people. We also make it a family activity for them to donate toys to children in need so they feel a sense of social responsibility too."
The most touching story Heidi shared of her children's charitable beginnings was about Johan, age 7. When his school put on a fundraiser a little while back, the boy took $50 out of his personal piggy bank to donate. What's more is that he had earned those 50 dollars by drinking his morning fruit/vegetable smoothies at a dollar each. Heidi emphasized how much that meant for her son, stating "that meant 50 days of smoothies for him -– and he hates smoothies!"
Heidi's personal stories of giving back, however, demand a much more serious tone. She discussed her role with the Red Cross in NYC just after Hurricane Sandy. "So many people had lost so much. We went out in a huge truck — my first time driving a semi — it was something. We delivered supplies, both basics and holiday toys–to communities that had been hit hard," she said. "I'll never forget both the shell-shock and the strength of the people we visited. One gentleman I met literally lost his entire house and was having to relocate his family of 6."
The hurricane was, at its peak, a Category 3 storm when it touched down in Cuba. In the Northeastern United States it hit as a Category 2, making it the largest Atlantic hurricane on record. The storm affected a total of 24 states, with 48 of its 72 fatalities taking place in New York. Ultimately the Senate approved an emergency relief bill to provide $60 billion to the impacted States.
This past Saturday, Heidi was honored by the Red Cross with its Crystal Cross Award for celebrities. About her charitable little ones, Heidi has said, "I want giving back to be a part of who they are".
So far, it seems the America's Got Talent judge is doing a wonderful job of getting her children involved in philanthropy, so perhaps one day they too will receive an award from the Red Cross, or another organization like it.