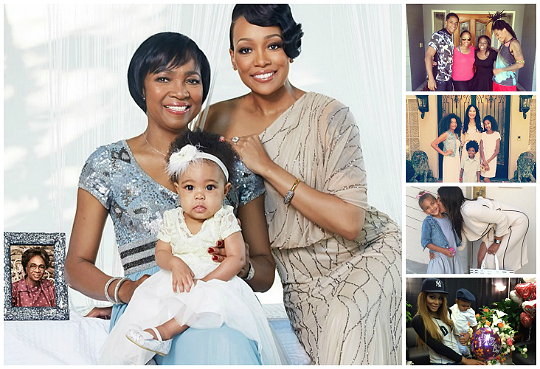 There are so many ways to bring life into the world, and as amazing as that is, it does take a lot more to be a Mother. Raising someone up to be an intelligent, independent person takes hard work and dedication. From changing diapers to first days at school, Mothers are always on the go; it is an everyday job where every moment counts. It's an everlasting source of pride, and once a year on Mother's Day the whole world celebrates your accomplishments and diligence with you.
On Mother's Day we publicly appreciate the bedtime stories and goodnight kisses, the support, the patience, and all the love that Mother's provide. A beautiful day like that is bound to produce some beautiful, happy, photos. Here are some of celeb Moms celebrating their special day.
MONICA:
In a show of generational love, Singer Monica Brown and her three kids gathered for a photo including Monica's Mother-in-law. She wrote, "we can't celebrate Mother's Day without Gi-Gi My Mother-n-Law the original SB LOL."  She also uploaded a generational  picture of her mom and her daughter Laiyah.
TINY
Tiny Harris posed with one of her six children with rapper T.I., titling the image "Me & my Troublekid". He presented her with a stack of money for Mother's Day, so she must be doing something right. Tiny ended her instagram post by calling her son the King of her heart.
MASHONDA
A wonderful bonus to Mother's Day is that it syncs with the arrival of Spring. Mashonda, who has a son with producer Swizz Beats, got to spend her big day in the sun with a lavish picnic. She joyously posted, "Real love is absolutely free and it's everywhere".
JUNE
Another Mother's Day picnic here, for stylist June Ambrose and her kids and an unknown dog. She posts "A picnic in the park  is my idea of a beautiful day".
NICOLE
Nicole Murphy has five children whom she shares with actor Eddie Murphy. For Mother's Day, Nicole spent the day in the sun at an amusement park with her girls.
KIMORA
Kimora Lee Simmons posted Mother's Day wishes "to all the mamas out there!", along with a photo of herself sharing the day with her three children. The former model and creator of Baby Phat has two daughters from her ten year marrige to Russel Simmons, and in 2009 her son with actor and model Djimon Hounsou was born.
RACHEL
Designer Rachel Roy, celebrated with her two lovely girls, posting beautiful pics with beautiful messages. She sent a shout out to "all raising children & trying your best". The girls were born during Rachel's marriage to entrepreneur Damon Dash.
EMILY
Stylist Emily Bustamante posted selfies with her son and her daughter, captioning only with hearts. Her son was born to her and long time boyfriend rapper Fabolous in 2008. Her daughter is from a previous relationship.
KYLA
This Mother's Day Kyla Pratt posted a photo with both her daughters, and wrote a touching message stating that she is blessed. She ended with a note to her partner, saying "Keep up the good work Kp Sr." Her daughters were born to her and Danny "Kp" Kilpatrick, a songwriter, hip hop artist, and tattoo artist. Kyla has been open about her love of pregnancy, labor, and motherhood.
SHANTE
Shante Broadus, married to Snoop Dogg, posted a photo of her celebrating her special day with her three children. Despite a rough patch in 2004, high school sweethearts Snoop Dogg and Shante renewed their wedding vows in '08, proving that family is a special love, and special bond. Their children are now 20, 17, and 15.
TAMAR
Singer Tamar Braxton celebrated her first Mother's Day with her son Logan. He was born to her and husband Vincent Herbert last June. Her special day was filled with flowers and balloons.