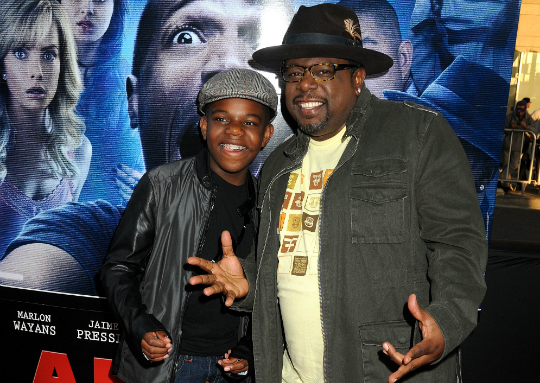 It's the Kyles in living color. Cedric the Entertainer and his son, Croix, were two of many to attend the Los Angeles premiere of A Haunted House 2 at Regal Cinemas near Downtown on Wednesday (April 16). The famed comedian and his son put on a great show while on the red carpet, making sure to smile and joke around for photographers.
Cedric is one of many stars to carry a role in A Haunted House 2. The celebrity portrays a corrupt priest who is both a man of the cloth and of the streets. "Father Doug is supposed to be a man of the cloth, but he is also a man of the gun, he is pretty much the thug godfather," explains the actor. "In this movie … Marlon's character needs more help, and you see me shank a dude at this church, and then I come over and try to solve this little situation they had where the demon was going crazy. It gets the best of me this time."
As one who is always busy, Cedric is doing more than making movies. "I'm about to do a really hot show on the CW called 'Barber Battle' where I'm going to go around in the hood and see all the top haircut dudes, that can really get down and have them battle it out. It's going to be really cool."
Cedric the Entertainer has two children, Croix and Lucky, with wife Lorna Wells. The comedian also has two daughters named Tiara and TinkyFlonz.
Photos: Splashnews