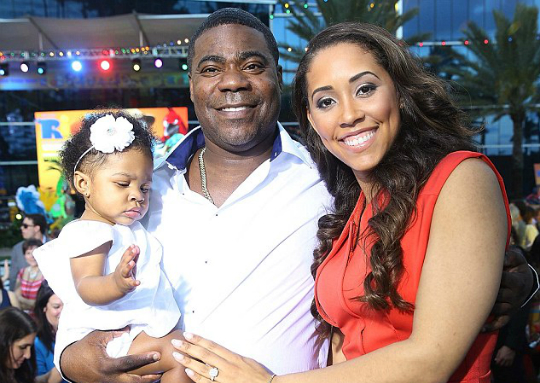 Tracy Morgan and fiancee Megan Wollover attend the premiere of Rio 2 in Los Angeles with little Maven Sonae by their side. The couple smiles wide while looking into the camera's lens. Maven doesn't look up but instead sticks out her hand to connect with photographers.
Rio 2 is the story of Blu and Jewel as they navigate through the wilderness with their kids. The bird family faces many dangers in the Amazon, including Nigel whom Blue fights beak-to-beak. Although many perils are present in the wilderness, none can compare to Blu's father-in-law who challenges his leadership capabilities every step of the way.
Rio 2 makes its debut in theaters on Friday, April 11, 2014. Maven is Tracy Morgan and Megan Wollover's first child together.
Photos: 1966mag/Twitter