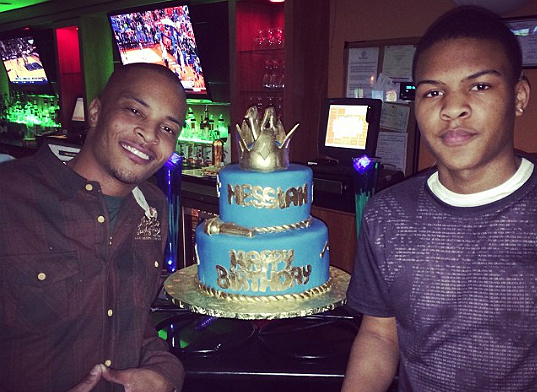 Happy Birthday Messiah! The son of T.I., turned 14-years-old a few days ago and celebrated in style with family and friends. The teen's brothers, Dominic and Major, were certainly at the party and took several pictures to prove it. D-Money was the cool one, posing alongside dad while Major stayed near his big brother. King was also at the party, goofing around and taking part in the cake-cutting segment.
Among the many gifts Messiah received at his party was a new car from his dad. "Speaking of responsibility U show me u can handle it & I'll give u all u can handle," wrote T.I. next to a photo of him and his son next to the beast of a truck. "Happy birthday G!!!! Time to really grow up now son. Manhood awaits. Get ready. We got 4mo yrs to get u ready," tweeted the star.
Messiah is T.I.'s son with Lashon Dixon. Check out more photos from the teen's party below!