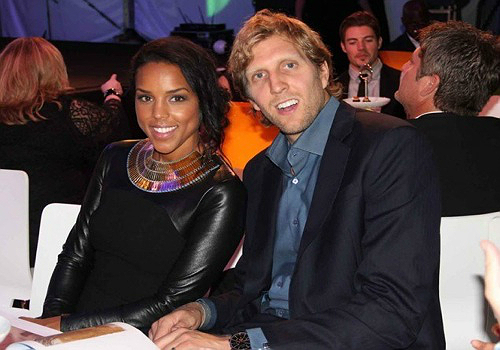 Dirk Nowitzki is ready to hit the court again with his wife and daughter in tow. The Dallas 'Mavericks' player recently told the press that marriage and fatherhood have been good to him.
"I just have to go with the flow," said Nowitzki to media. "I really don't know how it's all going to play out. [Malaika] is actually sleeping pretty well already. She gets seven or eight hours sometimes and obviously we've got a little help sometimes, so I should be OK. I mean, I might be tired sometimes in practice, but I should be all right."
Although excited to begin the upcoming season with a child, Dirk isn't planning to have his daughter cheering in the stands just yet. "Unfortunately it's just a little early for her to watch me play, which would be sweet, but I don't think she understands that much yet." The star athlete added, "Maybe one of these days, when she gets a little older, I'll still be playing."
Malaika is Dirk and wife Jessica's first child together. The couple wed on July 20, 2012.