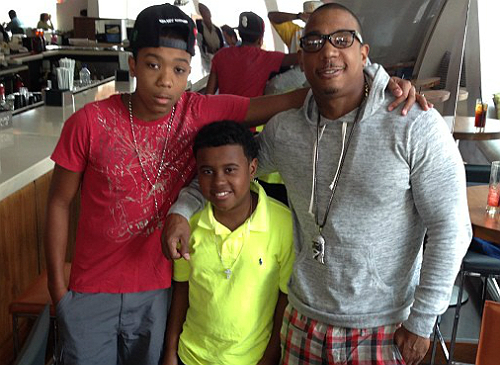 Ja Rule hangs with his sons in between dining at a local restaurant. The rapper and actor places his arm around Jordan while being embraced by eldest son Jeff.
Ja Rule has shared several pictures of his kids with Instagram fans, including one of Jeff and Jordan gearing up for the football season. "Football season is back this the s*** I missed," tweeted the star.
The rapper and his family may soon be featured on television in their own reality show, thanks to 51 Minds Entertainment and celebrated television producer Cris Abrego. Ja recently spoke with VIBE about his Reality TV endeavors telling the media source, "Television needs more positivity, especially young black families to look at. [My show will allow viewers] to see that it is not just negativity when it comes to Black couples on television, but also a lot of good families out there raising kids and doing good things out there. And also have fun out there and it doesn't have to be corny, but young parents raising three beautiful kids and doing it our own way and it's special. Its got to have the edge, its got to be sexy, its got to be fun and that's what people gravitate towards."
Ja Rule plans to collaborate with Cris Abrego and other creatives at 51 Minds Entertainment to get his show on the air in coming months. The rap star has three kids-Brittany, Jeff, and Jordan-in all.
Photo: Instagram