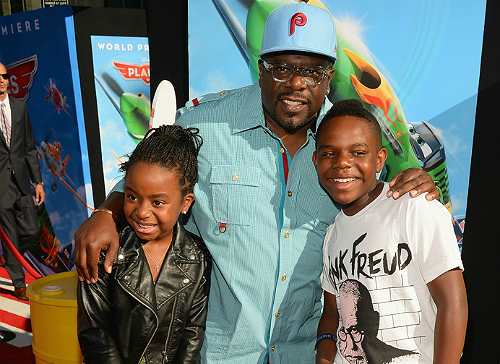 Cedric the Entertainer and kids Croix and Lucky smile as the camera captures them en route to the premiere of Planes by Disney. Both Lucky and Croix appear to be excited about going to see a cool Summer movie with their famous dad. Cedric, an original King of Comedy, is in complete daddy mode, smiling wide while holding his son and daughter close.
Planes is the story of Dusty, a little plane with big dreams, who is held captive by a fear of heights. The aircraft must overcome this fear in order to participate in the aerial space race that he has long dreamed of competing in.
Will the little plane be able to pull it off? Or, will Dusty succumb to his fears and never see his dreams of flying high come to fruition? Find out when Planes comes to a theater near you on Friday (August 9). Cedric voices character Leadbottom in the animated film.
Lucky and Croix are Cedric and wife Lorna's little ones. The comedian has four kids in all.