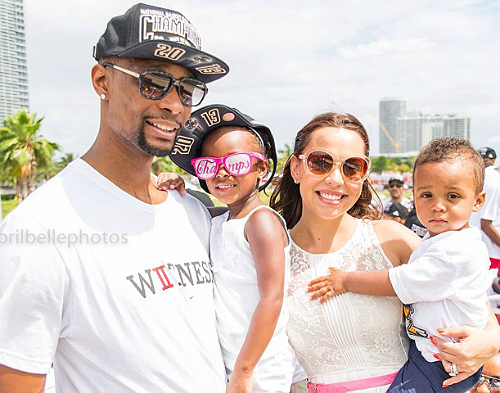 Chris Bosh enjoys the company of Trinity so much that he wants to have her full-time. The Miami 'Heat' player recently petitioned the court to award him primary physical custody of Trinity over the tot's mom, Allison Mathis.
TMZ reports,
"Bosh claims Mathis has been trying to alienate the kid from him … blocking contact, refusing to let them travel together, and poisoning their daughter against him. Bosh wants primary physical custody, but says he's more than willing to give Mathis her fair share of mother-daughter time in the form of visitation."
Allison has denied allegations of alienation and plans to fight for custody of her daughter.
Mathis' lawyer previously commented on Chris' court order to only give Allison $1100 per month in child support by claiming residency in Texas, telling GossipNews.com that the Miami 'Heat' player tricked the trial judge and thus conned his way into paying hundreds less in monthly support than he would have paid if he legally resided in Florida. Allison's lawyer had presented the possibility of taking Bosh back to court on behalf of his client to get more child support for Trinity days before the basketball player petitioned the court for primary custody.
Trinity is Allison and Chris' only child together. Chris and wife Adrienne Bosh have one child, Jackson, together and are expecting another bundle of joy to arrive later this year.
Photos: April Belle