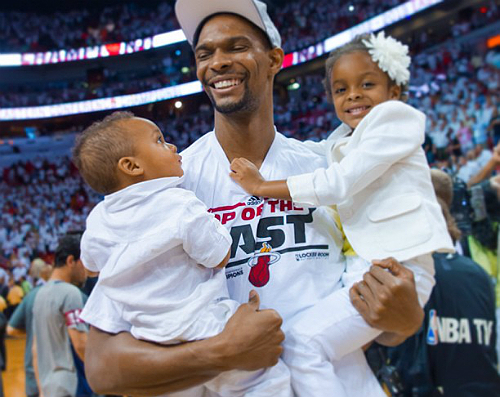 Chris Bosh celebrated in style last night (June 3) as he lavished in victory with kids Trinity and Jackson by his side. The Miami 'Heat' player expressed great delight in his team's win over the Indiana 'Pacers' while holding his little ones close. Trinity also shared in her dad's excitement, smiling wide as the cameras captured her cuteness. Jackson, not fully aware of everything that was taking place, just looked and took in his father's joy.
The 'Heat' defeated the 'Pacers' by more than twenty points with the scoreboard reading 76-99 at the game's end. Such triumph puts Miami in place to win another championship as they will now be going to the finals to compete against other stellar NBA teams.
Chris and wife Adrienne Bosh are expecting their second child together with the anticipation of his or her's arrival in Winter. Trinity is Chris and ex-girlfriend Allison Mathis' little one.
Photos: April Belle