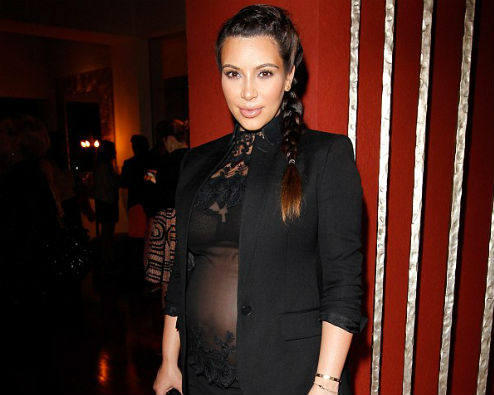 Expectant mom Kim Kardashian was recently spotted out-and-about in Los Angeles, wearing the most sheerest of outfits under an open black jacket.
Kim has been getting a lot of bad press about her fashion sense since announcing her and boyfriend Kanye West's expectancy last year. Last week, the star told media that nothing seems to fit her well these days. "I think I was trying to hide it for a while, but I'm still at the stage where nothing looks good, so I've found it really difficult to get dressed," said Kardashian. "I'm learning that stretchy is everything. Blazers and stretchy fabrics are going to be my new thing. Right now, there's not much that will fit me."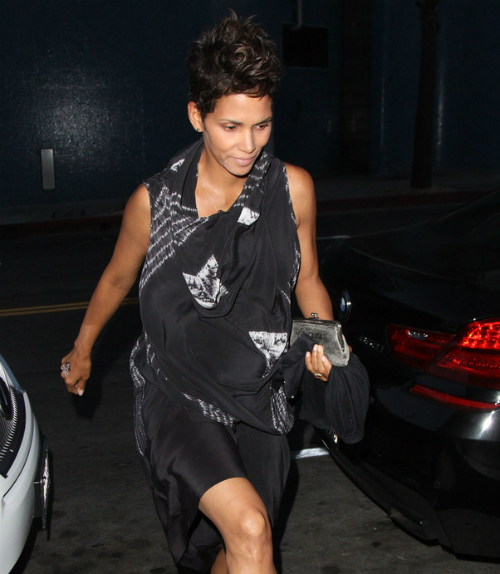 Berry, on the other hand, was spotted yesterday wearing a uniquely draped outfit that completely covered her 'miracle' bump. Berry,46, recently said of her pregnancy, "I'm thinking that this is a miracle. I feel really happy. It's one of the best things that happened in my life, for sure."
Kim is expecting her first child to arrive in July, while Halle is anxiously awaiting the arrival of her second child in the Summer. Berry confirmed her and fiance Olivier Martinez's expectancy through her representative a few weeks ago.
Photos: Wireimage/PCN