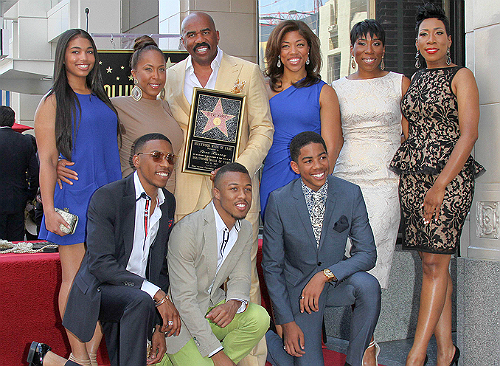 The Harvey kids stand proud as dad, Steve Harvey, holds his Hollywood star for the boulevard to see. The comedian was awarded his very own star after decades of hard work and dedication in the industry. All of Steve's kids, along with wife Marjorie, were in attendance at the monumental event held on the Hollywood Walk of Fame in Hollywood on Monday (May 13).
Although some people believe in luck, Steve attributed his success in Hollywood to God and hard work. "I do work very hard, I kid you not—but I'm also a recipient of a lot of grace and mercy. God has given me much favor to be here. But the rest of it is hard work and that combination. It's such a reward that has paid off. It's so rewarding," said the star.
Steve began his career in entertainment during the mid-80's as a stand-up comedian at the Hilarities Comedy Club in Cleveland, Ohio. The celeb parents seven kids in all.