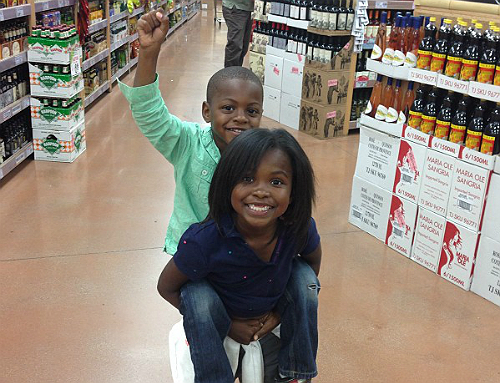 Heaven and Hendrix never take a break from comedy and cuteness. The brother and sister duo were recently photographed by mom, Torrei Hart, in the grocery store looking both adorable and funny. "My babies never on chill mode. Funniest kids I know," tweeted Torrei.
The Hart kids spent a bit of time with dad this past weekend, relaxing on the couch with the family dog by their side. Heaven and Hendrix appeared to be tired after a long day of activities with dad while the family dog looked as if he was ready to go for a walk or run. "My babies came & hung out with me at work today….my dog Riggs photo bombed us lmao #HartFamily," captioned Kevin under the pic.
Torrei recently  revealed  that Kevin is an excellent dad. "Kevin is a great father to both of our beautiful children" explained the comedian. "Although things have been up and down, Kevin and I are actually really good friends. I recently had a yacht birthday party, and Kevin paid for everything. We have children together, and our goal is to make sure that we provide a nurturing environment for them at all cost."
Torrei and Kevin welcomed Heaven and Hendrix into the world after marrying in 2003. The couple filed for divorce in 2010.