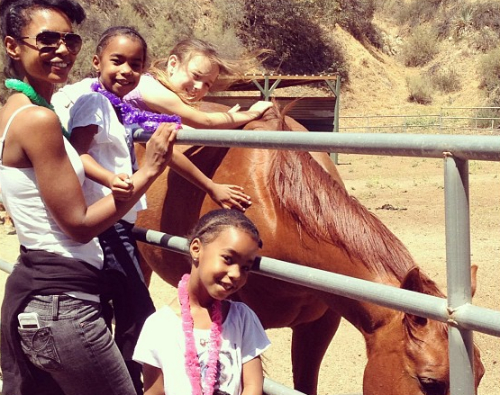 D'Lila and Jessie enjoy a ranch day with mom. Kim Porter smiles as her girls pet the horse gently. Both D'Lila and Jessie show no fear as they get up-close-and-personal with the brown creature.
Kim recently discussed the joys of motherhood with Runway, telling the magazine that her twin daughters and sons feed into her desire to succeed in life. The model shared much about her and Sean Combs', a.k.a. Diddy, ability to co-parent their kids, and gave a bit of insight as to what she hopes to accomplish in the future. Porter gave readers a few tips for life before ending on a bright note.
Kim and Diddy parent four kids-D'Lila, Jessie, Quincy, and Christian-together.