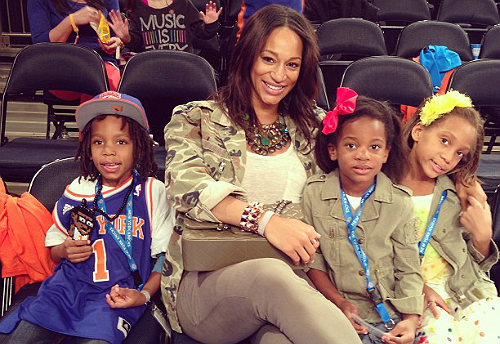 Alexis Stoudemire and the kids snap a pic at Game one of the playoffs with New York competing against Boston for the win. Alexis and her daughters, Assata and Ar'e, are in color sync with green and white wear, while Amar'e Jr. shows support for dad, Amar'e Stoudemire, with his New York 'Knicks' jersey.
BlackCelebKids.com got the opportunity to interview Amar'e last week during the premiere of his 'In The Moment' documentary. Although he has sat out much of the season due to knee injuries, Amar'e revealed that he is excited that he and his wife are "expecting another son."
Amar'e and Alexis announced their expectancy last year and wed privately with 12 witnesses just before that. The couple plans to have a larger wedding ceremony later this year that will include family, friends, and their kids.
Stay tuned for the exclusive interview!