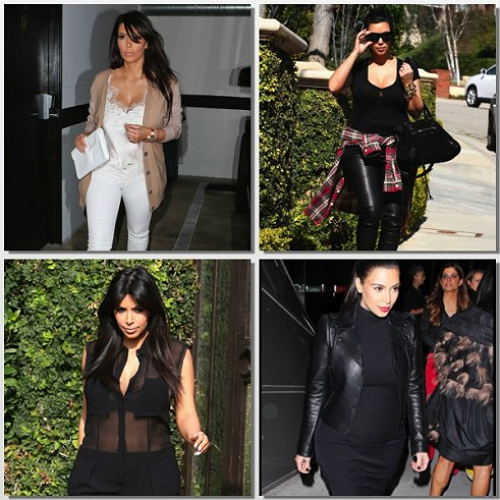 Pregnant reality star Kim Kardashian is having trouble dressing her expanding baby bump. The socialite recently took to her personal blog to write about her pregnancy dressing woes:
So I wanted to do a mommy blog today to talk about fashion during the early stages of a pregnancy. For me, I've found that I've gained inches and I've gotten wider but my belly hasn't popped yet, so I struggle finding things that don't make me look heavy. Some days my baby bump really shows, and some days it doesn't… so I never really know what I'm going to look like.

At this stage I guess I'm more focused on concealing the weight gain than I am about dressing the bump, just because it hasn't popped yet. My new J Brand maternity jeans are a blessing because they make me feel slim and comfortable, and I'm excited to try other looks! I heard Jet makes some amazing maternity jeans too. Once I start showing more I'll be all about showing off my bump, and I can't wait!

I'm definitely having a lot of fun with my maternity fashion and love trying new things. I want to share my pregnancy fashion tips with other expecting moms out there and I know it's different for everyone; some women start showing sooner, others don't start showing until later, but I want to share my own personal experiences with you guys along the way….
Kim is expecting her first child with boyfriend Kanye West in July.
Read more: http://www.usmagazine.com/celebrity-style/news/kim-kardashian-models-favorite-pregnancy-look-says-its-so-awkward-to-dress-her-baby-bump-201313#ixzz2MKAmL6W0
Follow us: @usweekly on Twitter | usweekly on Facebook
Source: Kim Kardashian.celebuzz.com