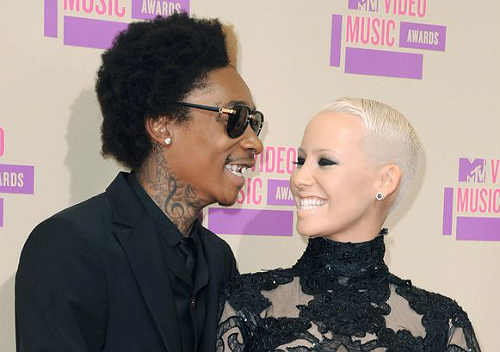 Amber Rose and Wiz Khalifa are basking in the joys of parenthood. The new mom and dad recently shared precious moments with their little one with Twitter fans, having Rose's mom and dad take turns holding Sebastian. The 1-week-old even grabbed hold of grandma's nose in one pic!
Amber is enjoying motherhood but admitted to social media that breastfeeding is a bit painful. "Man breastfeeding is awesome…. It kinda hurts tho but the bonding with my baby is unbelievable. So worth it," tweeted the model.
Wiz, meanwhile, is enjoying being a new dad. "Bash is so awesome. He makes the coolest faces and hardly cries." Adding, "Im not gonna lie, i haven't been on twitter, instagram, in the studio or nothin. Juss bein Sebastian's dad is good enough for now"
Rose and Khalifa received lots of gifts and accolades from friends and family who were delighted to hear of baby Sebastian's birth. Sean Combs even sent a congratulatory bouquet with a card that read, "Congratulations! Love, Sean 'Diddy' Combs." Amber and Wiz welcomed Sebastian into the world on Thursday, February 21, 2013.
Photos: Instagram