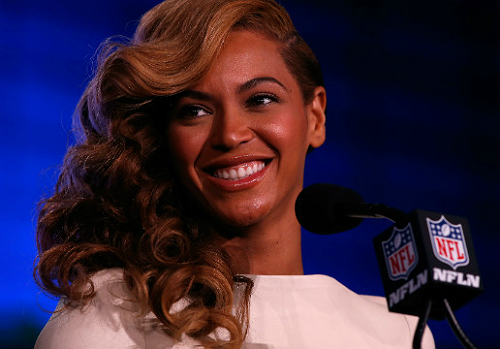 Beyonce opened her Super Bowl press conference with the 'Star Spangled Banner' and later talked with Deion Sanders about what matters most: her husband and daughter.
The singing sensation couldn't help but gush about Blue Ivy,1, telling Sanders and his co-host, "When I wake up in the morning, the best thing in the world is seeing her face. She's starting to talk. It's just such a beautiful time in my life to have a child and everyday see something new. It's so much more fulfilling than anything else in the world." Bey is madly in love with husband Jay-Z who she characterizes as nothing short of spectacular. "My husband is incredible. He's so supportive," said the star.
Beyonce will deliver 12 minutes of entertainment during the Super Bowl's half time segment this Sunday. Blue Ivy is her and Jay-Z's first child together.