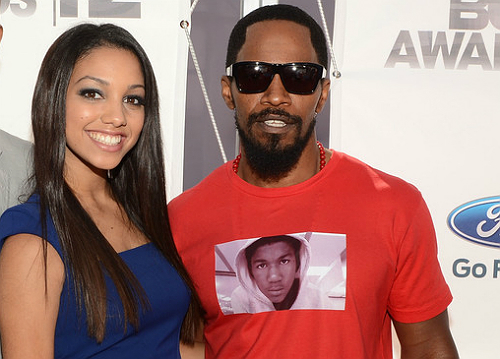 Jamie Foxx has been a father long enough to know that there are two sides to parenthood. On one hand, there's the authoritative figure who primarily tells children what to do and expects their wishes to be carried out. Then there's the friendly guardian who gives advice about life based off lessons they've learned along the way. As a single father of two daughters, Foxx utilizes both sides of parenting when rearing his girls.
"There's the 'I'm gonna talk to you like father stuff. Like 'When I was a kid, I walked to school,' and 'What's all this music that you're listening to?' and 'You're throwing your life away," says Foxx.
Then there's the "homey" approach. "Like with my oldest daughter, I say, 'Hey, if you're going to drink, pour your own drink, no drugs. When it comes to physical activity or things like that, make sure you protect yourself physically and emotionally.' Talk to them as real as you can, because right now that's what kids need. And even though you do all that, you're still gonna be on their nerves. I'm still goofy," Foxx admits.
Although a celebrated actor and songwriter who has won several awards, Academy and Grammy, Foxx says that he can relate to the average parent. "You learn that it's all still the same parenting process, regardless if you're a celebrity or if you're just a person who's working nine to five. The main thing is staying really, really close to them and making them understand that you've been through things and you can help them, but don't try to live your life for them," explains the actor.
So will Foxx be marrying anytime soon?  "I don't think so. I look at all of my friends that have been married and they get divorced and … it just doesn't seem like it works."