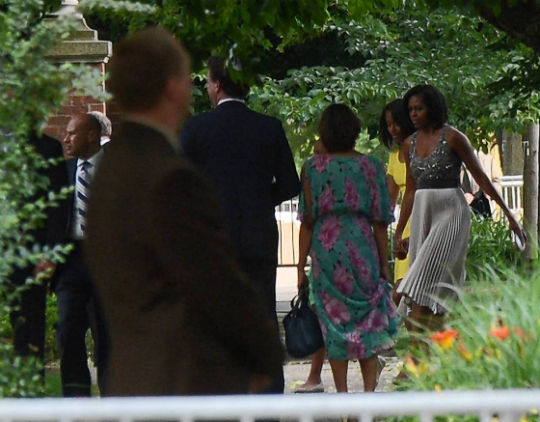 In honor of Father's Day, First Lady Michelle Obama uploaded a video on Youtube to wish her husband a happy Father's Day. In the video, the first lady shares why President Obama is a great dad.
"Barack is a very hands on dad. He works every day to be the kind of father that he didn't have.  One of the things Barack is successful at is giving his children the kind of stability and continuity that he didn't have," the first lady says in the video.
"I don't think he has missed at parent teacher conference their entire lives. He's at everything he possibly can — every concert, every game that he can make.  He knows that it's so important for girls to know that they have the love and support of the most important man in their lives. And that's their father."
PHOTOS: Click here for more pictures of the first family

Watch the video below!

Picture above shows the first family heading to Laura Jarrett's wedding on Saturday, June 16, 2012, in Chicago. Laura Jarrett is the daughter of Valerie Jarrett, senior adviser to President Obama.