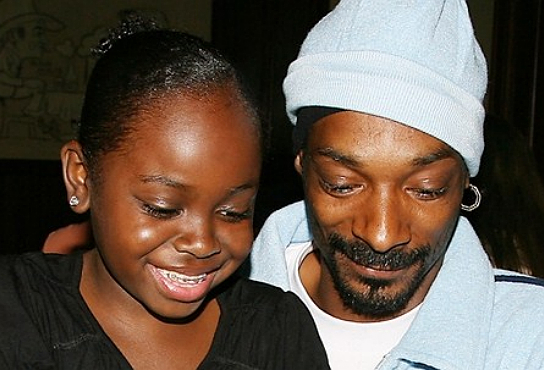 Cori Broadus,11, is eager to enter the world of showbiz so her dad, musician Snoop Dogg, is working on getting her a reality show.
The rapper tells DigitalSpy, "I'm trying to do a TV show for my daughter, I'm getting that off the ground because she wants to do her thing. She wants to see this world, so I'm going to drop her off and let her do her thing."
He adds, "We don't watch no shows as a family. We all got our own TVs, so we watch what we like. But I really want my daughter to have her own show so we can all watch that together."
During the Kids Choice Awards last week, the father of three performed with boy band Big Time Rush at the request of his daughter.
"It was fun working with them", Snoop says. "They're young, they're exciting, they're inspiring, they give a lot of energy, I can't wait to go back on the show and work with them again.  When the kids appreciate and love you, it just makes you realize that you're never getting too old. It's a great feeling to be here and feel the warmth."
Photo:Source