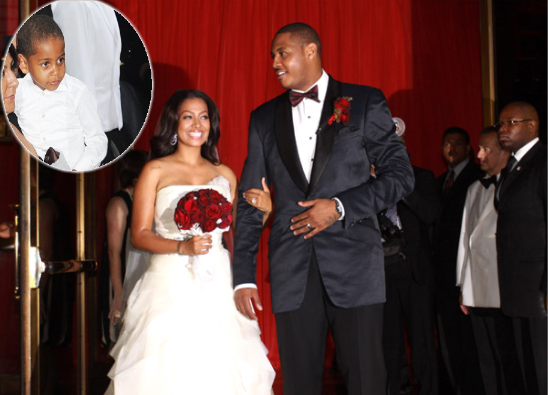 Denver Nuggets star Carmelo Anthony and television personality LaLa Vazquez married on Saturday(July 10th) in a lavish New York City wedding. The couple's ring bearer was none other than their 3-year-old son Kiyan Anthony:
According to People.com: "Vazquez wore a Vera Wang wedding gown as she exchanged vows with Anthony in a ceremony performed by Dr. Michael Eric Dyson, PEOPLE has learned. [Among] the 300 invited guests were Khloe Kardashian and Lamar Odom, Spike Lee, Ludacris and Kelly Rowland.
The couple's 3-year-old son Kiyan served as ring bearer.
The Manhattan venue, featuring towering marble columns and chandeliers, was transformed into a red-themed celebration featuring red table cloths, centerpieces of red Ecuadorian roses, hundreds of candles and thousands of red roses hanging from the high ceiling."
VIDEO:ET takes you inside Lala Vazquez' wedding day preparations.
The couple were engaged on Christmas Day 2004.
Photos: Nunez/Moises De Pena