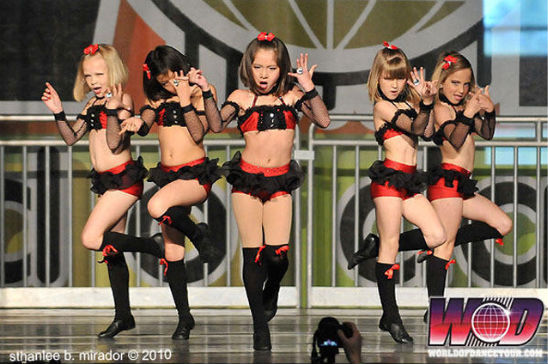 A video of 8- and 9-year-old girls in midriff tops dancing to Beyonce's "Single Ladies" is causing an uproar on the Internet.
"The video shows a troupe of young girls in midriff-baring tops, short skirts, and black stockings gyrating to Beyonce's "Single Ladies." The girls were performing at a competition called World of Dance in Pomona, California on April 10. While the girls are extremely talented and their movements are synchronized, many viewers are shocked at their costumes and the choreography(Source)."
Click here to watch the video of the girls
Click here to watch what the girls' parents had to say about their daughters dance routine.
What do you think? Are these girls just having fun or growing up too fast? Are artists like Beyonce to blame? Or are the parents?