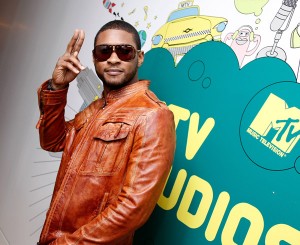 For singer Usher Raymond, life is a balancing act.  When the R&B crooner  is not busy working on a new album or branding his image, he finds balance with his two sons Raymond V,18 months, and  Naviyd Ely Raymond, six months.
"I find balance in two places, when I'm working out and with my kids. And I could be doing many things, I could be running, doing cardiovascular, all that type of stuff. I really find the balance in what I need to do or what I'm thinking about or what I need to think about in that moment when I'm on the treadmill running. The other place is within the noise of my children. When I hear them my mind is not focused on all of the things that are holding me down. When I'm with my boys its all about them and I just put it all together somehow. They bring me my balance."
So does the R&B singer wish for his kids to become singers, too?
 "Hopefully! We got Usher V, and Naviyd he's not quite at the age where he can talk, sing and catch rhythm, but Usher's already jumping. He likes to jump, thats his new thing," Usher said.