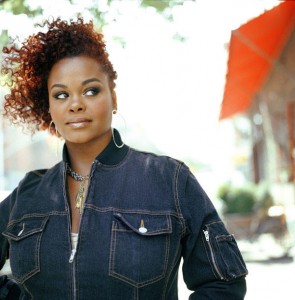 Singer and actress Jill Scott couldn't be happier as a new mom to her first child, baby Jett Hamilton Roberts, born on April 20, 2009. Jill says that the "experience of being a mother is so remarkably special and different from anything else in life" that she feels as though she has been "reborn". Read below as Jill shares her thoughts on motherhood with AOL Black Voices.
As a very new mother, what is the most surprising thing about motherhood?

Wow, the whole experience has been so incredible from start to finish. It might sound clichéd but I never thought I would have as much love for anyone as I do for my new baby. The little one inspires me every day to be the best mother that I can be. I feel so loving and full of life. I really feel blessed!
Do you feel any differently as a person now that you have his "mother" moniker?Yes, I feel like I've been reborn. The experience of being a mother is so remarkably special and different from anything else in life. Giving birth is such a cleansing experience that I feel like a brand new woman.
What type of mother did you envision yourself being, and has that changed any?I always hoped that I would make a strong and amazing mother. My mother and grandmother were very strong women and they taught me the importance of loving yourself and loving others. I hope that I can do the same for Jett. I've been forced to be much more responsible and thoughtful about life, in general, and how everything affects my baby. It's been a wonderful growing experience though.
What is the most difficult thing facing mothers today in your estimation?Trying to keep everything intact, as a mother and a woman.
What is the most important issue facing children today?I feel that children are not being loved properly. Too often, they get abused, mistreated or neglected. I believe that a loving family is the most important part for developing a content and amiable child.
What do you think are three things every mother must have for successful work/life balance?
Well for me personally, I'm just trying to enjoy it all and try my hardest. I try to enjoy everything I'm doing and once I enjoy it I trust that I'll be successful at it. That goes the same for being a mother. I've dreamed of being one for a while now so I'm just soaking it all in, and enjoying every moment I can with my son. To balance it all will be hard, but my son always come first and then everything else comes after.