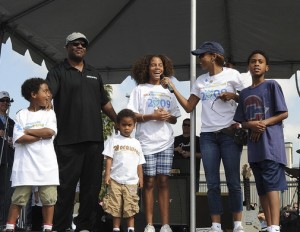 For actress/mom/philanthropist Holly Robinson, Spring Break is a time to spend with the family. Read below as Holly shares what spring break was like for her and her husband, former NFL quarterback Rodney Peete, and their children, (L to R)Robinson, Roman and Twins Ryan and Rodney, Jr.:
All of us moms have just witnessed the same time period of the school year: Spring Break. The kids are home from school, some for a week and others for two weeks. And so we plan: activities, vacations, camp. Anything to keep them occupied and from driving us batty.
The Peetes played and worked hard over Spring Break. The entire family – yes, all 6 of us – had a relaxing time in Cabo San Lucas, Mexico for a few days. The beach was gorgeous, the water crystal blue, and kids fished, played on the sand, jet skied and mommy returned tanned and relaxed. And then we were off to work – yes, the entire family. The kids enjoyed their annual co-starring role in mommy's Colgate commercial, especially Robinson who will soon become the new Peete thespian in the family. What a ham!
My daughter Ryan and I also spent a couple of days in New York to announce our new book. "My Brother Charlie" was Ryan's inspiration many years ago, and she is truly proud to have Scholastic as our publisher. We met with "buyers" (Borders, Barnes & Noble, Target, etc) to talk about our experience writing the book together and why a book about twins, one atypical with autism and the other a typical child, is important for children and parents of all ages, demographics and circumstances. The most exciting part of the trip was to receive a "galley" of the book and for the first time to see the AMAZING drawings of our illustrator, Shane Evans. He truly captured our story with his art. Next April you will be able to see it too. We can't wait to share Ryan's realized dream of being a published author with all of you.
Read more at MomLogic