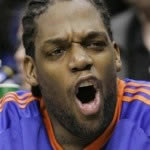 The three-year-old son of NBA player, Eddie Curry, witnessed the murder of his mother and sister this past Saturday.
ViaNBCChicago.com:
The mother of Knicks center Eddie Curry's 3-year-old son and her infant daughter were found murdered at her South Side Chicago apartment on Saturday, according to various reports. Police found Nova Henry, 24, and daughter, Ava, fatally shot around 6 p.m., the Chicago Tribune reported. They are searching for a "known acquaintance" of Henry's in connection with the murder. Henry's 3-year-old—Curry's—was discovered unharmed, sources told the Tribune and the New York Daily News.  Immediate family members did not comment but a man indentifying himself as Henry's uncle say they believe they know the who the gunman is.
"She had a stalker boyfriend," he told WMAQ in Chicago. "And she had a restraining order against him and she was trying to avoid all this."
A Knicks source close to Curry described him as "distraught" on hearing the news of his former girlfriend's death and what his son witnessed, according to The News.  Curry flew back to New York from Philadelphia after a game on Saturday, the source said.  The Knicks center has had on-going tragedy in his personal life since being traded from the Chicago Bulls in 2005.

His former driver sued him for sexual harassment and racial discrimination, accusing Curry of unwanted advances, pointing a gun at him and making "abusive, anti-Semitic epithets."
In 2007, Curry's family was robbed in their suburban Chicago home by masked men who took cash and jewelry after duct taping the family in the house.