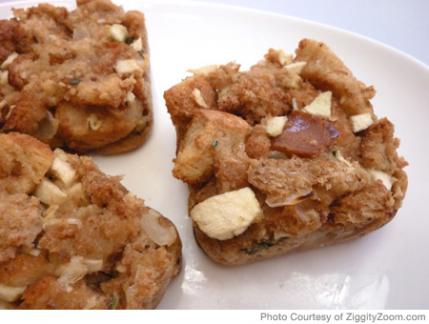 Yummy Apple Stuffing Muffins
Encourage your kids creativity with this before dinner snack that is not only healthy, but will hold them over and not ruin their dinner appetite.
What you need:
6 Cups bread cubes (See below)
1 Cup diced apple
1/3 Cup finely-diced onion
1/2 Tsp. minced sage
1/2 Tsp. fresh thyme
Dash of cinnamon
1/4 Cup apple juice
1 1/4 Cup chicken broth
Maple syrup
Saute onion. Add apple, sage and cinnamon. Mix all ingredients and then spray muffin tin with olive oil. Press gently into muffin tins. Drizzle lightly with maple syrup. Bake at 350 for approximately 30 minutes. Serves 10.
How to make Bread Cubes
4 Slices whole wheat bread
4 Slices oatmeal bread
Cut bread into cubes. Arrange on baking sheet. Spray with olive oil cooking spray or drizzle, lightly, with olive oil. Broil, on low, for about 1 minute on each side.
To view more recipes that you can share with the kids this holiday season. Visit Parenting.com!