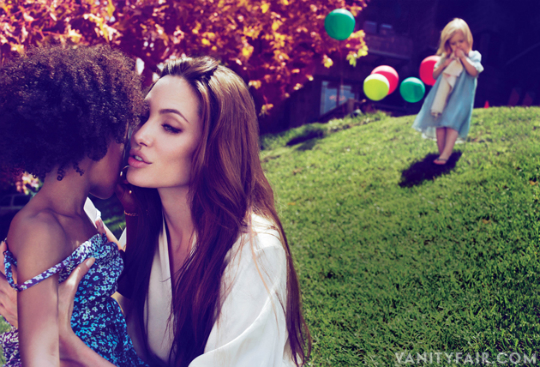 Angelina Jolie addresses rumors about her personal life in the latest issue of Vanity Fair.  "I'm not pregnant. I'm not adopting at the moment," the mom of six reveals in the October issue of the magazine.  The actress is, however, making her directorial and screenwriting  debut with her new movie, In the Land of Blood and Honey.
"I've never felt more exposed. My whole career, I've hidden behind other people's words," Jolie says of her latest venture. "Now it's me talking. You feel ridiculous when you get something wrong."
So how did Jolie come to write the script for this new film?
"I had the flu," Jolie says. "I had to be quarantined from the children for two days. I was in the attic of a house in France. I was isolated, pacing. I don't watch TV and I wasn't reading anything. So I started writing. I went from the beginning to the end. I didn't know any other way."
Photo: Picture shows Angelina with daughters Zahara and Vivienne Pitt-Jolie.