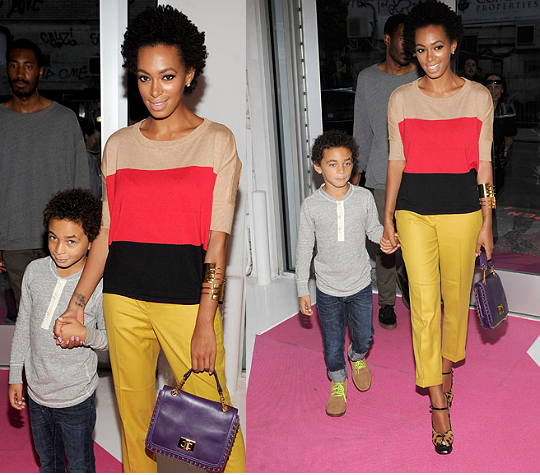 Solange Knowles is photographed with her son Julez,6, at the INC International Concepts at Macy's press preview at Openhouse Gallery on August 17, 2011 in New York City.
Earlier this year(March 2011), the fashionable pair teamed up to raise money for victims of the earthquake and tsunami devastation in Japan. The mom and son duo were inspired to donate to the Japanese relief effort after watching the devastation of the earthquake unfold on television.
Solange told Wenn, "Me and my son, we are on the west coast still, we woke up on the morning of the earthquake and tsunami, at around six o' clock that morning, and were watching it on television. He was very affected by it and asked a lot of questions and we decided we wanted to do something together to help. So we actually are in the process, we're almost done… He did a watercolor of the Japanese flag and we're making shirts and totes [bags] and note cards and we're gonna sell them locally here and donate the proceeds. We're really excited about it."
More pictures below!